Way back at the beginning of the year, I tried to get up to date with a few of the books written by authors I've met either via Twitter or through blogging. The intention was to review each book as I finished it. I started off with Karen Jones's
The Upside-Down Jesus and Other Stories
, but I didn't get much further. I did read and enjoy the other books on my list, though, and although it seems unlikely I'll get time to do a 'proper' review for them, I thought I'd post some mini-reviews instead.
The Electric by Andrew David Barker
Freshly available in a rather handsome
paperback
edition, this is a coming-of-age story steeped in a love of cinema - not just the films themselves, but the (seemingly) increasingly old-fashioned concept of going to watch a film in a building specifically designed for the purpose. Set in 1985, the novel follows Sam Crowhurst, a teenager reeling from the death of his father, who stumbles across a run-down cinema in the woods, the eponymous Electric. Unable to resist the urge to investigate, he ventures inside, and his exploration results in a fascination with the old building and its mysteries that borders on obsession.
It's quite a gentle story - although there are strong supernatural elements to the book, it steers away from horror. It struck me as the type of coming-of-age story Stephen King might write, although it's much more in the
Stand By Me
mould than the
It
one. There are subtle undertones of a different Steven, too - I'm sure Spielberg would have turned this into a cracking movie back in the day. Despite the spooky goings-on in the cinema, The Electric is not so much a ghost story as a tale of grief and loss, and an exploration of the vital part friendship plays in your life in those early teenage years. There were a couple of occasions where I felt Andrew took a bit of a run-up to saying what he was going to say, but overall this is an impressive debut. It's charming and full of heart, and its nostalgic, elegiac tone is perfect for the subject matter.
Looking out of Broken Windows
by
Dan Powell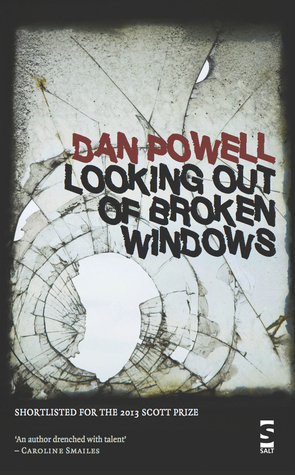 Dan Powell's short stories have won many plaudits and this,
his first collection
, was shortlisted for the prestigious Scott Prize (sadly now discontinued). There are twenty-seven stories here, with many having been published and/or winning prizes in a variety of different places. Although the subject matter of the stories varies considerably, they're united by a strong sense of being about a character (or characters) who have been dealt a rather unfortunate hand by fate, and are struggling to make the best of it.
There is a good balance here - although sometimes the subject matter can seem fairly heavy, Dan avoids letting everything descend into gloominess by employing deft touches of humour at just the right moments. There are some great surreal aspects to many of the stories - an unborn baby communicates with its mother via morse code, a man falls in love with a painted silhouette he finds behind his wardrobe, a woman discovers she's transformed into a vending machine - and it's to Dan's credit that these elements never seem forced or outlandish.
The Art of Letting Go
by
Chloe Banks
When attractive stranger Ben arrives in a sleepy seaside town to try to paint God, he throws the lives of three women into turmoil. Rosemary, a retired physicist, just wants to be left alone. To her, the artist's presence is an unwanted intrusion, but she gradually becomes intrigued by his work. Timid, middle-aged Jenny sees Ben as a possible cure for her broken heart. And young nurse Cheryl, bored of small-town life, is just looking for a bit of excitement. As they all begin to gravitate towards Ben, secrets they'd rather have kept buried are forced out into the open.
I was impressed by
this debut novel
. I'd read several of Chloe's stories before, but I got the impression she'd really upped her game for this book. The four strands (each written in first-person from the viewpoint of the different characters) are keenly observed, well managed, and provide interesting insights - for example, when the same event is described from different perspectives. The quality of the writing is very good, too, and makes for a deceptively easy read. It's a slow burn, and people looking for a breakneck, twisty plot may be disappointed, but if you are happy with a more relaxed pace, this thoughtful book won't disappoint.